Arshaka Bimantara Young Member Training and Training
The DIKLATSAR (Basic Education and Training) activity for young members of ARSHAKA BIMANTARA is a program organized by Telkom University Jakarta student affairs which aims to train the intuition or knowledge of young members of ARSHAKA BIMANTARA by practicing directly in the field to implement pre-training material.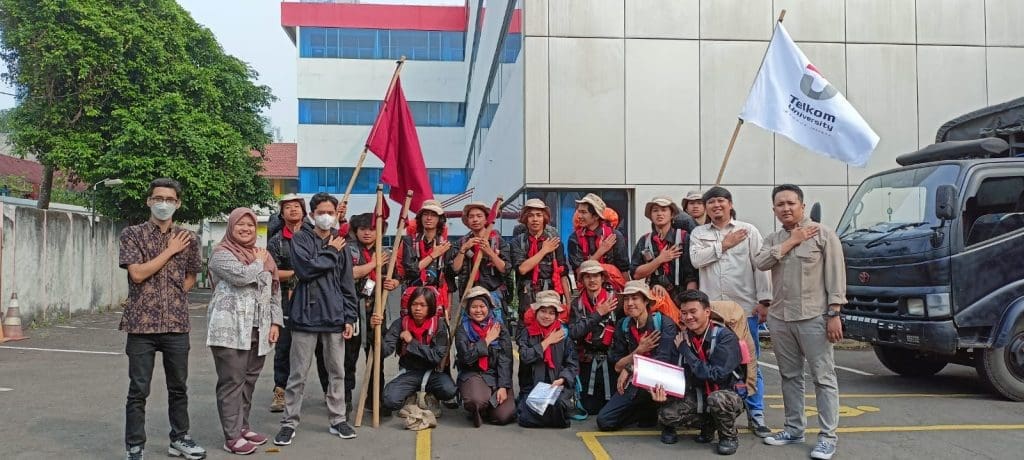 Held from 25 July 2023 to 28 July 2023, taking place in Pasir Luhur, Ciasmara, Pamijahan, Bogor Regency, West Java in collaboration with WANADRI, attended by 14 participants who were students from the Bachelor of Information Technology and Bachelor of Visual Communication Design departments.
The theme for this DIKLATSAR activity is "Brave, Strong, Solidarity". With this activity, it is hoped that the participants will know about the ARSHAKA BIMANTARA organization, knowledge about the outdoors and the environment, minimize personal loss in the forest, and help and develop the mentality of the younger generation who are aware of the sustainability of the environment around them.
With the increasing number of mountain climbers, especially in Indonesia recently, there is still a lack of awareness of environmental sustainability. Clear evidence of the lack of awareness is the frequent forest fires in the mountains, the large amount of organic and non-organic waste left behind by climbers without considering the impact on living creatures and the surrounding environment.
Then there are many climbers who do not have an introduction to nature or a basic knowledge of outdoor activities which allows undesirable things to happen such as accidents, loss and so on. Therefore, we formed an association of nature lovers students to reduce the impact of damage to the environment and reduce the impact of death in outdoor activities.
In connection with the widespread problems as described above, ARSHAKA BIMANTARA organizes DIKLATSAR activities to train and educate prospective young members to care about nature and provide training on activities in the wild. This activity is mandatory for participants who are interested in becoming permanent members at ARSHAKA BIMANTARA. This activity is carried out every year, intended as a basis for reference and confirmation to become new members in "ARSHAKA BIMANTARA". This activity includes sports and educational activities that can help the government in its efforts to preserve the environment.